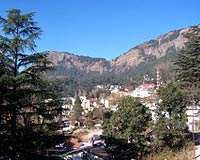 Nainital is one of the major hill stations of India, located in the state of Uttarakhand. Nestled in the Himalayas, the hill resort is a must for people longing to witness the bounty of nature. The scenic town, known for its alluring weather, is visited by a large number of people throughout the year. In the 19th century, Nainital turned into an exclusive preserve of the British, with hardly any Indian visible in the locales, except the Indian royalty or the labor. It served as the summer retreat for the British and even today, one can find a large number of relics here, serving as a reminiscent of the British era.
Nainital has something to offer to people from all walks of life. If you are one of the adventurous sorts, you can indulge in trekking and a host of water sports. People with a religious bent of mind can visit the several holy shrines in the town. The hill resort is engulfed by three Mountains - Mt Naina, Mt Deopatha and Mt Ayarpatha, which render a picturesque look to the town. The historic town of Nainital regularly features in the ancient Puranas of India. According to a mythological tale in the Skand Purana, a dip in the Naini Lake is considered to be as holy as a plunge in the waters of the Mansarovar Lake in Tibet.
The hill station is also renowned as one of the major Shakteepeeths and hence, holds immense reverence for a devout Hindu. Goddess Shakti Devi is worshipped at Naina Devi temple of the town. It is believed that at Nainital, eyes (nain) of Goddess Sati fell, when Lord Shiva carried her charred body. The town of Nainital earned its name from the presence of Naini Lake, situated right in the heart of the city. The hill resort enjoys a pleasant climate throughout the year and during the winter months, remains engulfed in snow.
The period of December to February is the time of annual snowfall in the region. If one is lucky enough to be in the city during these months, he might get to see the bewitching spectacle of fresh snowfall. Those on a tour to Nainital can also take a sojourn to the nearby hill resorts of Almora, Ranikhet and Kausani. In short, we can say that the beautiful hill station of Nainital has undoubtedly become one of the favorite tourist hotspot of India, attracting people from across the globe for its sheer serenity and beauty.