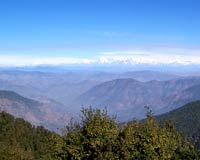 Location:
Uttarakhand, India
Altitude:
6,360 ft above sea level
Summer Temperature:
27°C (maximum), 10°C (minimum)
Winter Temperature:
15°C (maximum), -3°C (minimum)
Average Rainfall:
110 cm
Best Time to Visit:
March to October
The hill station of Nainital enjoys a pleasant throughout the year, perhaps the reason why British chose it as their summer capital. The hill resort is famous for its picturesque locales, lofty mountains and rippling water bodies. The summers are never hot, with the temperature hardly reaching beyond 27°C. The months of June to September are a time for the yearly showers. During this period, the temperature of the hill station dips and the mist in the air renders the town a romantic feel. From the months of December to February, Nainital is completely engulfed by snow. To get more information in the weather and climate of Nainital, browse further.
Summer
Summers are the best time to visit the hill station of Nainital. The weather is absolutely pleasant and the slight warmness in the day serves a welcome change in the usual misty weather. The temperature in summers reaches an optimal level of 27°C, while the minimum temperature may dip down to 7°C. Summers comprise of the peak season for tourists to visit the hill station, especially those belonging to the hot northern plains.
Monsoon
The monsoon season in Nainital lasts from the month of June to September. This season results in the dropping of the mercury in the hill resort. Being a hill station, Nainital witnesses early onset of monsoons. As the monsoons come, they also bring along mist and clouds at a very low level, adding a romantic feel to the place.
Winter
This is the freezing cold season of Nainital, when the minimum temperature stoops down to -3°C. The winter sets in Nainital from the month of October and lasts till February. During this time, the entire town gets swallowed by snow, rendering it a serene ambience. People, from the plains, flock to Nainital in December, to view the first snowfall of the season. Till February, Nainital continues to witness fresh spurts of snowfall.